Did you know that snoring can lead to sleep apnea?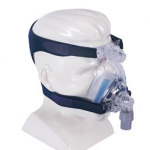 The Common CPAP Mishaps
Besides the bulk and uncomfortable application that patients are required to wear while they sleep, there is also noise from the machine, found to be disturbing for patients and their bed partners.
Could it really be worse than the snoring that occurred before CPAP? According to a large number of patients and their bed partners, yes! Amongst the list of other complaints, is the mass of the equipment. Patients who travel find it cumbersome to take with them, and as such, leave the device at home while away. Though CPAP remains the "gold standard" treatment for Sleep Apnea, its success rate is hindered by patients lack of continuous use. Non-compliancy exists in over 40% of CPAP cases.
Simplify Your Life with OAT It could be the answer to many problems for CPAP users who become non-compliant for a variety of reasons. OAT or Oral Appliance Therapy, using MAD (mandibular advancement device), utilizes a simple mouth piece worn while sleeping and could raise the compliancy and success rate for CPAP therapy considerably. In addition, Oral Appliance Therapy has the potential to reduce the apneic events by more than half, and because more patients are able to successfully wear the appliance it is a viable alternative to CPAP.
By itself, wearing a MAD, it is an effective prevention of snoring's common progression into sleep apnea.
Take the Next Step Today!
If you are a CPAP patient experiencing discomfort or any type of non-compliance with your current therapy, or you are seeking a simple but effective treatment for snoring, we'd like to help. Discuss this alternative with you doctor. To discover if this new treatment is right for you, we invite you to come in for a free consultation. By visiting with Dr. Sellman and discussing your situation will help determine if oral appliance therapy is right for you.
How Much is Feeling Your Best Everyday Worth?
This consultation is completely free with no obligation. You can discusss your concerns with your current therapy, options for alternate therapy, and how the process works including next steps. Cost and medical insurance coverage options may also be discussed at this time.